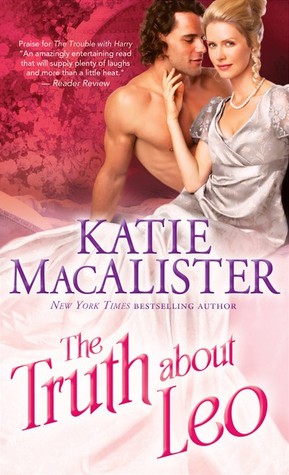 The Truth About Leo
by
Katie MacAlister
Publication date: August 5, 2014
Series: Noble #4
Publisher: Sourcebooks
Amazon

|
Goodreads
B & N
What a wonderful, fun and fast paced story.
Her Serene Highness, Princess Dagmar Marie Sophie, has been ordered by her cousin, the Crown Prince of Copenhagen, to leave her home. She is not sure where she will be going and is without any family in Copenhagen and has very limited funds, well none to speak of. She is feisty, smart, determined and fun.
When we meet Leopold (Leo) Ernst George Mortimer, seventh Earl of March, is in service to the crown of England and he is helping a stranded cat from a tree. Instantly we are rewarded with the quirky humor that is carried throughout the story. He is left for dead by soldiers and manages to find Dagmar's back garden. Dagmar needs recuing and sees Leo as a way to conform to her nasty cousin's wishes to leave her home and getting herself to England and her English relatives that turned their backs on her mother for marry her father. They marry and she nurses him back to health on the trip to England.
When Leo finally comes to his senses from his fever he finds himself married to Dagmar, which, while not what he was planning, is turning out to be the best thing for him. He finds that she had used creative sneakiness to accomplish the marriage and getting them on the English ship. They are married, but know virtually nothing about each other and during their "courtship" they discover things about themselves and they come to realize they are better together than apart. We are treated to hilarious discussions of lady and man parts and their relationship to the other and wonderfully charming advice from Dagmar's mother on the same. There is a murderess loose and in typical period fashion the men leave the women out of the mix, only the woman have other ideas. The women that have befriended Dagmar have a whiskey induced brain storming session to figure out how to help.
Ms. MacAlister uses humor and fast paced conversations to bring out the depth of the characters she has created. They are feisty, irreverent and fun. Ms. MacAlister's ability to be charming while bringing tension and mystery to us, the readers is brilliant. There were a couple of things along the read that I felt were not explained, but in the end they were far outweighed by the enjoyment the story brought. I love the way I came to care so quickly for the characters and was thrilled to see their story unfold.
I received a complimentary copy of this book in exchange for my honest review.
I received a complimentary copy of this book in exchange for my honest review.
Rating: