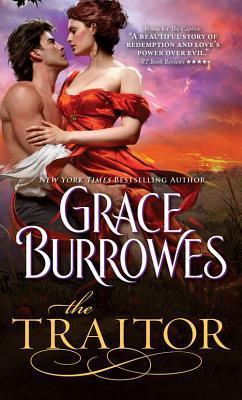 The Traitor
by
Grace Burrowes
Publication date: August 5, 2014
Series: Captive Hearts
Publisher: Sourcebooks
Amazon

|
Goodreads
B & N
WOW! Betrayal, manipulations, honor, and sacrifice, what a full story!
Sebastian, Baron St. Clair, is a man trapped between the two countries of his heritage- England and France. He is born English, but becomes, through no actions of his own, a master at extracting English intelligence for France. The war is over and he has returned to England to take up his responsibilities as Baron and the last of his line. He is labeled the Traitor Baron by the officers that were in his "care" and the name has spread to the ton. The horrors of his part in the war haunt him.
Millicent Danforth is Sebastian's elderly aunt's paid companion and he makes it his business to assess her role in their lives; she will do but, she throws him off kilter. She is frank, smart, insightful- almost too much so, pragmatic and not intimidated by Sebastian at all. Milly sees past the "traitor" straight to his heart.
Sebastian is being targeted by the English officers he "met" during the war and challenged to duel after duel. However he denies them the one thing they want- to redeem themselves in their own eyes and hearts. He has resigned himself to a short and lonely life. Milly gets under his skin and makes him start to wish for a future. The tenderness Sebastian was able to bring to those he cares for, despite his past is heartwarming.
Throughout the story you know who the enemy is, but not the depth of the betrayal and the hope rolled up in Sebastian's life. The struggle to grasp a life he thought was over is poignant and the injustice make you want to stand by him and fight with him. Ms. Burrowes has created that fine balance between good and evil with skill and grace. The ending had me reaching for the tissue and cheering! I enjoyed it immensely and I recommend this series to all. Well done, Ms. Burrowes, and thank you!
I received a complimentary copy of this book in exchange for my honest review.
I received a complimentary copy of this book in exchange for my honest review.
Rating: