Buried Under Romance is very pleased to welcome author
Anna Campbell
for an interview on her upcoming book,
What a Duke Dares
! :)
-- One Advance Reader copy of What a Duke Dares (International). Comment for a chance to win!
About the Book: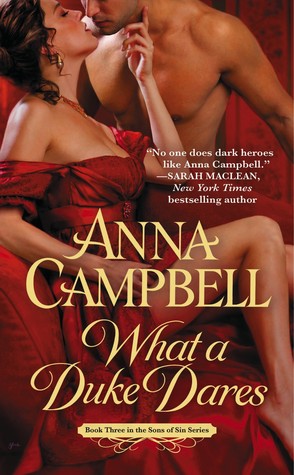 A Reputation at Risk
What woman in her right mind would say no to marrying the dashing Duke of Sedgemoor? Miss Penelope Thorne, that's who. She's known Camden Rothermere since they were children - and she also knows she'd bring nothing but scandal to his name.
Cam can hardly believe Penelope turned down his proposal. But if she wants to run off to the Continent and set the rumor mill ablaze, he can't stop her. Then her brother's dying request sends him to bring home the one woman he thought he'd finally gotten over.
The only way they'll both get back to London without their reputations in tatters is to pretend they're married during the journey. That means kissing like they mean it and even sharing a bed - until it becomes hard to tell where the game ends and true desire begins...
Q: What inspired your Sons of Sin series, and in particular, WHAT A DUKE DARES?
Anna:

Mary, thank you so much for having me as your guest today! I have to laugh at what inspired my Sons of Sin – at first, it was a purely practical decision. In 2011, I was changing publishers from Avon to Grand Central Forever. Every book I'd done for Avon was a stand-alone but Grand Central were keen on the proposal I'd done for SEVEN NIGHTS IN A ROGUE'S BED and wanted more books using the same world. As you'd know, in Rogue, the hero's bastardy is a major problem, so I came up with the idea of three friends at Eton all affected by the shadows hanging over their births. The strange thing is that I've found it's such a joy to write connected books and to come back to check on previous characters and introduce future personalities.

Right from the start, I'd been looking forward to writing the third book which was to feature Camden Rothermere, the Duke of Sedgemoor. Cam has always been one of those "I'm completely in control of my life" heroes – and it's such fun when love brings chaos to those cool, calm, collected types. I've long wanted to write a book about unrequited love – the heroine Penelope Thorne has loved Cam all her life but knows it's completely hopeless. I find those stories really touching, and I adore that the lover is so strong and steadfast in their devotion, despite knowing (well, at least thinking that they know!) that there's no chance for them.

Q: Tell us three things you love about Penelope and Cam.
Anna:
Ha, this is the easiest question in the world. I always fall in love with my characters, but I particularly love these two. With Pen, I love her courage and her spirit and her willingness to go to any length to protect the people she loves. With Cam, I love that he always really tries to do the right thing, his confusion when he falls in love when he was so sure he never would, and the passionate nature he hides beneath his control.

Q:

What a Duke Dares features one of my favorite tropes in historical romance - the traveling together trope. What are your favorite tropes to write?
Anna:
I love a road trip romance too. The first few chapters of this one, as you know, involves Cam very unwillingly escorting Pen back from Italy to London, although the bulk of the book takes place in England. In the road trip trope, I love that the hero and heroine are stuck together and much as they might want to, they can't escape that nearness. And we know that nearness brings temptation! Other favorite tropes include the marriage of convenience (ooh, look, there's one in WHAT A DUKE DARES!), the conflict of honor and love, enemies to lovers, friends to lovers (that's also WHAT A DUKE DARES), Beauty and the Beast, Cinderella, Sleeping Beauty, and the hero in spite of himself.
Q:

Along their journey, what are some things that Cam and Penelope learn about each other?
Anna:
I had such fun writing that journey – they're both so reluctant to undertake it. Cam, because he promised Pen's dying brother that he'd get her back to England and safety, Pen because Cam won't take no for an answer once he's accepted the responsibility. And of course there's the threat of scandal if the world discovers that they've spent all this time alone together! When Cam and Pen meet again, they haven't seen each other for nine years. Their last encounter was when Cam asked Pen to marry him and she turned him down flat. On the trip, Cam discovers that his unwilling attraction for Pen only becomes stronger the longer they spend together. While Pen to her despair realizes that time has done nothing to dull her love for her childhood hero – and that the love she feels as a grown woman is considerably more complex than her adolescent adoration. They also recognize, with some surprise, that the qualities they admired in each other's younger self are still just as compelling. I've written enemies into lovers before. This is the first time I've written friends into lovers. It's such a lovely trope.

Q: What was your favorite scene to write in the book?
Anna:
I think probably the first kiss which takes place during a storm at sea. The wildness outside is nothing compared to the wildness these two conjure up when they at last give in to their simmering attraction.

Q:

If you could have any character in the book as your best friend, who would you pick and why?
Anna:
Oh, undoubtedly Pen. I think she and I would be great friends – and she'd be the sort of pal who always gave you great advice. I admire her take on life and her bravery and her strong individual moral code. I also think she'd have some wonderful stories about her years wandering around Europe with the likes of Shelley and Byron before she becomes a duchess. And hey, I'd love it if she let me look at her art collection!

Q:

What's coming next for you?
Anna:
I've just handed in the manuscript for A SCOUNDREL BY MOONLIGHT, the fourth Sons of Sin book which should be out the first half of next year (not such a long wait this time). The hero is the Marquess of Leath who plays a part in both A RAKE'S MIDNIGHT KISS and WHAT A DUKE DARES. He's another straight arrow who falls in love with a woman who threatens everything he's always wanted in life. The heroine is another intrepid miss, Eleanor Trim, who gives Leath a run for his money! As this is the last full-length novel in the series, I had a lovely time tying up all the threads and giving everybody a blissfully happy ending at Christmas. For the last two years, I've done a Christmas story (THE WINTER WIFE and "His Christmas Cinderella" in the free collection, A GROSVENOR SQUARE CHRISTMAS). I'm doing another one this year so look for that around late October/November. I've done the first draft and it's tentatively titled HER CHRISTMAS EARL.
Mary: Thanks for your answers, Anna! I can't wait for Anna's book!
**GIVEAWAY INFO**
-- One Advance Reader copy of What a Duke Dares (International). Comment for a chance to win! Winners will be picked on July 8th. :)
Winner picked - awaiting confirmation!
About the Author:
ANNA CAMPBELL has written eight multi award-winning historical romances for Grand Central Publishing and Avon HarperCollins and her work is published in sixteen languages. Anna is currently engaged in writing the "Sons of Sin" series, which started in 2012 with SEVEN NIGHTS IN A ROGUE'S BED. Look out for WHAT A DUKE DARES in August 2014. Anna lives on the beautiful east coast of Australia where she writes full-time.
Author Links