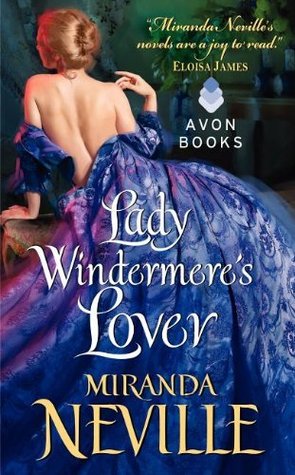 Lady Windermere's Lover by Miranda Neville
Publication date: June 24, 2014
Series: The Wild Quartet #3
Publisher: Avon
Amazon

|

B&N

|
Goodreads
Lady Windermere's Loveris the third book in the Wild Quartet series by Miranda Neville. The hero and heroine, Lord and Lady Windermere (Damian and Cynthia), were strangers who suddenly found themselves married as partial settlement of a gambling debt. Damien, who has little interest in being married to someone that he sees as plain and simple, immediately abandons his wife and goes into the foreign service. When he returns a year later, he finds that Cynthia has become very pretty and more at ease with her position in society. He begins to feel that perhaps they could have a future together, but he is plagued by rumors that she had taken a lover in his absence.
This is the first book that I have read by this author and I enjoyed her writing style. The story line held my interest and the pacing was even. The heroine, especially, was very likeable and the hero's reactions to various situations were very believable. In one chapter, both Cynthia and Damian draw portraits of each other which gives them new insight into their relationship. I felt this scenario was particularly well written and I hoped that the author would follow this up later in the book. She did. What she didn't do, however, was follow-up on another issue that haunted the couple, especially Cynthia, throughout the book, and this was disappointing.
I'm giving Lady Windermere's Lover four stars because I felt the ending was far too abrupt. It cried out for an epilogue to wind everything up, especially the issue I mentioned above, but instead I felt like the readers were left hanging. Otherwise, I thoroughly enjoyed this novel, and I'm adding other books by Miranda Neville to my TBR list.
I received a complimentary copy of this book in exchange for my honest review.
Rating: