Happy Thursday, everyone! And welcome to a new feature on
Buried Under Romance
and
Love Saves the World
.
What is Throwback Thursday?
Traditionally, Throwback Thursday celebrates nostalgia, asking participants to post a personal photo or an image from their past -- usually from 5 to 10 years ago. There are a lot of book blogs that also do a book-related Throwback Thursday.
The Historical Romance Edition:
Since Tin of
Love Saves the World
and I are unapologetic lovers of historical romances, we've decided to focus on our beloved genre.
Here are our rules:
1. It must be posted on a Thursday.
2. It must be a historical romance novel published before October 3, 2008.
So, the novel I'm featuring is...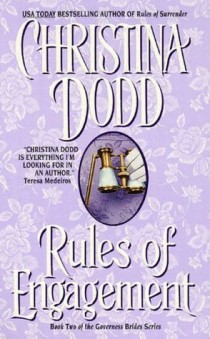 Rules of Engagement by Christina Dodd,
published in 2000
Blurb:
The Rules of Engagement
:
Choose a bride from this year's debutantes.
Decide on a proper settlement.
Send an announcement to The Times.
Inform the bride of her good fortune.
Rules of Respectability
Devon Mathewes, Earl of Kerrich and London's most celebrated rake, finds his income and family name imperiled by his notorious reputation. So he demands three things. A sensible, unattractive governess who will not wish to visit his bed—after all, a handsome man such as himself can't be bothered to make love to every woman who wants him. An orphan he can adopt and seem to care for—his apparent kindness will cover him with the patina of respectability. And that his life not be altered unduly—the child and the governess could better his character without his participation.
Rules of Passion
As a condition of accepting the governess position, Miss Pamela Lockhart has a few rules of her own. Devon at all times must behave with propriety. She must be allowed to choose a suitable orphan. Most important, Devon must vow to never ever delve into Pamela's background or her appearance, lest he discover the deepest secrets of her heart. But of course, all rules are made to be broken…
To find out more about Christina Dodd and her books, click the links below:
~~~~~~~~~~~~~~~~~~~~~~~~~~~~~~~~~~~~~~~~~~~~~~~~~~~~~~~~~~
This is my first Christina Dodd book, and one that made me fall in love with her writing. This book is utterly hilarious -- from Kerrich's uh...mishap that is still being talked about despite it having happened years ago to Pamela's struggle in masquerading as an old woman just to get the money from this position...everything is funny and sweet. And when Kerrich suddenly realizes that he is attracted to an old woman, that's just priceless! But amongst that, there are also sweet and tender moments as the two become closer together and forge a friendship that leads to love. And of course, the orphan who Kerrich had originally set out to buy turned out to unexpectedly charm him...so all is good and happy. :)
Now, h
ead over to Tin @
Love Saves the World
for her pick of the week.
Ki Pha @ Doing Some Reading has also joined us, so be sure to visit her blog as well. :-)
Oh, and Happy Thanksgiving to those living in the United States!